As Google acts, the question is: have we lost our... →
unexpectedtech: The rise of the internet, from obscurity to ubiquity in the course of a few decades, has had profound effects on our society and on us as individuals. No one could have predicted how significant it would become, and no one can predict with any certainty how it will develop. This is true of the underlying technologies, but it is equally and, arguably more importantly, true of...
Should Parents Lose Custody of Obesity Children? –... →
Over my dead, obese body!  Bring it on you skinny bastards!
1 tag
I don't care - no, really.
Ladies, When a man says "I don't care" – he really means it.  There is no hidden meaning.  This is not indecision on his part.  It simply means that he doesn't care… - where we eat - when we go - what we do - when we stop - how it's done - which dress you wear - and so on, and so on, ad nauseum. There is no derision, no ill-will, no ulterior motive.  He means what he says…nothing...
5 tags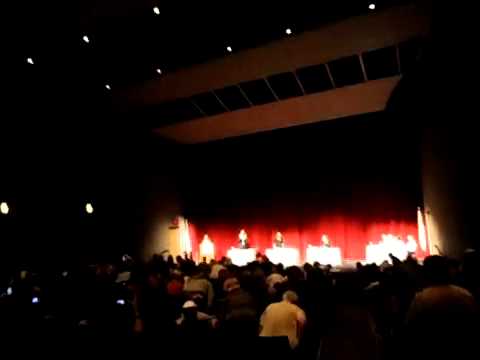 2 tags
Leaded or Unleaded
Image via Wikipedia And another story from college. RJC On this planet there are dark skinned people, light skinned people and every shade in between. Short people, tall people, skinny people and fat people exist in every society.  These things make us unique; they make us who we are.  For all of our differences, however, we are somewhat the same. We all eat, sleep and drink. On the whole we...
2 tags
The Captain's Chair
Image by somjuan via Flickr I recently found some papers I wrote while taking college courses.  Fun to re-read them.  Thought I'd share them here.  Here's my favorite.  RJC It loomed in the corner of my small apartment. The big brown monster seemed to lurk mischievously there, waiting for its next victim. It practically invited the unwitting and uninitiated to join it in its dark, gloomy...
2 tags
Freedom Is Not Free
Freedom Is Not Free By LCDR Kelly Strong, USCG – Copyright 1981 I watched the flag pass by one day, It fluttered in the breeze. A young Service man saluted it, And then he stood at ease. I looked at him in uniform So young, so tall, so proud, With hair cut square and eyes alert He'd stand out in any crowd. I thought how many men like him Had fallen through the years. How many died on...
2 tags
I vote for this guy...
Since it's (apparently) no longer important that the President of the United State be a natural born citizen, I hereby nominate Australian Prime Minister Kevin Rudd as our next president.  Here is a quote from Mr. Rudd that explains in very clear terms why. 'IMMIGRANTS, NOT AUSTRALIANS, MUST ADAPT. Take it or leave it.  I am tired of this nation worrying about whether we are offending some...
3 tags
Vox Popoli: Deliver Us From Evil →
I read Vox Popoli most every day and I especially enjoyed this.
3 tags
Technology
Vehym Vyhdyco Nulgc! WooHoo! Final Fantasy XIII coming to PS3 on 3/9/10! Can't wait for that! I've been playing Final Fantasy since FFI way back when. (90/91? Something like that) Seems like technology has advanced almost unbelievably since then. The first game was awesome on the first Nintendo – it came with a big giant fold out map – that is, a paper map. On the other side, if I remember...
1 tag
H1N1
Here it comes, America. Roll up your sleeves and prepare for an injection from your government. They know what's best, right? RJC President Obama declares national emergency over swine flu pandemic, but why?
4 tags
"Dear Mr. President: I'm planning to move my family and extended family into..."
– Found this and though it was great!  Enjoy.  RJC
1 tag
Don't Trust Them!
Time to get your news about the world from some other source. RJC The hapless, clueless media: "Exclusive: Joseph Farah declares, 'arrogance' of press is breathtaking"
1 tag
No, really...Get Your News Elsewhere!
White House boasts: We 'control' news media: "'The tactic was. … making the press cover what we were saying'"
2 tags
Whew!
What a day yesterday was! We shot the moon, sold a piece of America to the Chinese and learned that if you are really good at reading speeches from a tele-prompter you can win a Nobel peace prize!
2 tags
This Woman Gets It... →
Rush: You're wrong on this one: "Exclusive: Kimberly Fletcher disagrees with radio host about what motivates tea partiers"
1 tag
Lamestream Media →
If you're getting your news from the mainstream media…you are, at best, getting only a piece of the news – at worst, being misled. Word to the wise…RJC The shameful non-coverage of 9/12: "Exclusive: Joseph Farah warns, media won't be able to ignore popular uprising"
3 tags
What Is A Spiritual Bully?
The answer to that question ostensibly depends upon which side of the Pastor's desk you find yourself.  One Tuesday evening I found myself on the (apparently) wrong side of that desk.  You see, I was accused of being just such a bully.  Here's my list of crimes: I refuse to be controlled. I find it disgusting that a member of any congregation can leave his/her brain on the coat rack in the...
6 tags
Don't Tell Me What's Appropriate
There are inappropriate reactions in life…this is certain.  Laughing in your (soon-to-be former) best friend's face while he grieves at his wife's funeral is inappropriate.  Shouting "FIRE!" in a crowded theater when there is no fire is not only inappropriate but illegal  – and for good reason. When one of my kids gets hurt, my reaction is one of anger.  After I make sure they're OK, nothing...
2 tags
In The End...
In the end, nothing much matters except relationship. How does one experience a deep, personal relationship with someone without knowing that person's name? True – it's possible to have an interaction with a nameless person – the policeman, the lady at the bookstore, the person who makes your coffee at Starbucks. Interaction, however, is vastly different than relationship. My wife is Anita –...
3 tags
A Lesser Evil? →
OK – so I've been in this discussion with a couple of friends lately – before the election and after.  I didn't vote for President-elect Obama and I didn't vote for Senator McCain.  I voted for Alan Keyes.  Why?  Well – his views more closely match my ideals as a person and his ideas about what is wrong with our country are right on the money. My friends have stated that I should have voted for...